07/2016
The treble is complete
Again the first place in the reader selection of the Auerbach publishing house in the category accessories.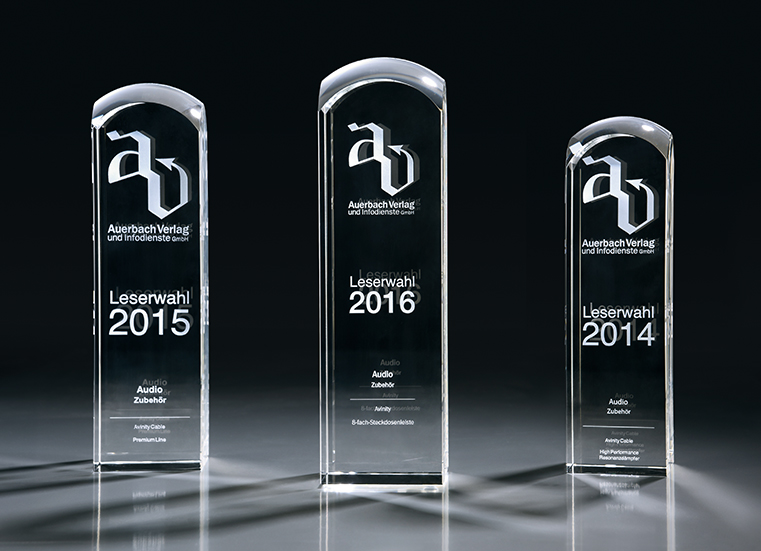 We are pleased to announce that we have once again taken first place in the accessories category for the reader's choice awards from the Auerbach Verlag publishing house (publisher of the "Audio Test" and "Digital Fernsehen" magazines). With our vibration absorbers taking first place two years ago and our Reference Class phono-RCA cable winning last year, our 8-way power strip now completes the treble. They even asked us to give an interview.
What makes our power strip so special? A great home cinema depends on two critical factors: You need crystal-clear sound and razor sharp video, and you need a complete range of accessories that matches both the design and the technical requirements of your system. In other words: Quality and design must be in harmony. For us at Avinity, that means never compromising on our cables or our other accessories, such as the 8-way power strip. Our high-quality power strip comes with a matte housing, a flat mains plug and dimmed LEDs, making it perfectly suited to a dark home cinema. It reduces external electromagnetic interference and protects your valuable home cinema hardware. Additional features: gold-plated contacts, noise filter, connections for TV and network cables, overvoltage and overload protection, child protection, special kink protection and a sealed strain relief grip to protect the cables. The power strip protects up to 72,000 A, and the maximum connection power is 2500 W. The product liability insurance offers up to 20 million euros for personal injury and damage to property.