01/2016
Important Tools for Setting up Home Entertainment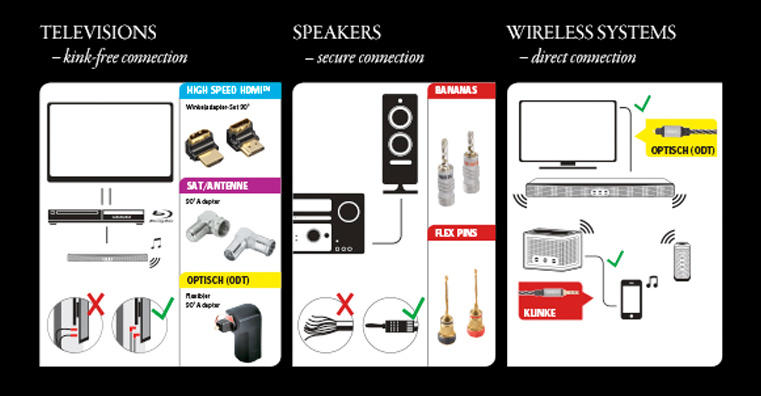 Detailed view
TV sets are getting increasingly large, high-resolution and flat, and should be mounted as close to the wall as possible. A common problem is that there's no room for the cable between the wall and the TV. With the ultra-flat design of AVINITY's 90° angle adapter, you can avoid bending the cables and causing interference with signals. The intelligent adapters are available not only for HDMI cables, but also for ODT, SAT and antenna cables.
When the new TV is complemented by a sound bar and other components for the home entertainment one needs secure connections. AVINITY has just what it takes to quickly and easily connect speaker cables to terminal sockets with secure contacts: silver-coated banana plugs and gold-coated flexpins for reduced contact resistance. This means that even cables with large cross sections can be connected to the clamping terminals with secure contacts. Thanks to the outstanding workmanship of the pins and plugs, the speaker cables offer maximum transmission quality for audio signals.
The two master/slave power strips offer a reliable power supply for all home entertainment devices. They are available with 6 or 8 sockets and offer overvoltage and overload protection, as well as child safety features. Both power strips feature a filter for electromagnetic interference, as well as connections for TV and network cables. This way, you have optimal protection for your hi-fi system, sound bar, Blu-Ray player, receiver, TV, etc. The 6-socket power strip has a master/slave function to ensure that the devices in the slave sockets are only powered if the device in the master socket is switched on.