WIRELESS SOUND SYSTEME & MULTIROOM 2.1 + 5.1
Does your stereo system or television not have Internet access? This article will explain how to set up your television for streaming and connect it to your home network.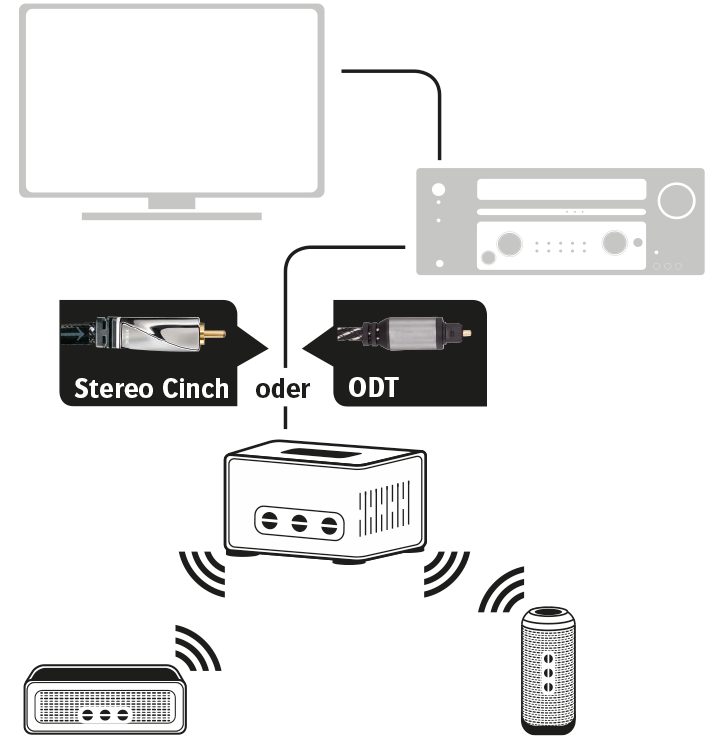 If you want to wirelessly connect an existing, high-quality stereo system to a multiroom system, we recommend using a "wireless connect" device. Manufacturers such as Sonos or Heos by Denon offer boxes to establish a wireless connection. These boxes allow you to take advantage of streaming services such as Tidal or Spotify. They can be connected using an ODT cable or a classic stereo-RCA cable. This set-up also lets you wirelessly transmit music from an existing CD or Blu-ray player to other wireless speakers.
Product recommendation
107494 | ODT | HIGH PERFORMANCE SERIES | 1.0 m
107528 | CINCH STEREO | HIGH PERFORMANCE SERIES | 1.0 m
If, for example, you want better on your second television without having to buy an additional sound bar, you can use a mobile wireless speaker such as the Sonos Play 5. To do this, simply connect the headphones output on your television to the speaker's AUX IN socket using a jack-to-jack cable. This also allows you to wirelessly connect the sound from the television to the multiroom system.
Product recommendation
127044 | JACK/JACK | CLASSIC LINE | 1.5 m
127077 | JACK/JACK | CLASSIC LINE | 1.5 m