HDR Gaming
True HDR gaming via PS4 Pro and Xbox One S: Here's how it works
A few months ago, 4K/Ultra-HD Blu-ray ensured new standards in film display. Now it's video games that set the tone in the proliferation of HDR. HDR video streams carry out an image adjustment fully automatically; however, when connecting the PS4 Pro and Xbox One S gaming consoles, a manual adjustment is necessary in the HDMI settings on the HDR television. This is shown in a test report published by the HDTV trade journal (issue 1/2017). The test was carried out with Premium-certified HDMI cables from the AVINITY Reference Class and High Performance series.
"Pay attention to two things: The HDR television should also allow game mode with HDR image sources and the input lag should be as low as possible."
HOW HDR PLAYBACK WORKS
| | |
| --- | --- |
| Manufacturer | Setting |
| LG | Enable HDMI Ultra HD Deep Colour in the 'General' options |
| Panasonic | Enable HDMI HDR in the Setup settings |
| Philips | Enable HDMI Ultra HD 4:4:4 in the 'General' options |
| Samsung | Enable HDMI UHD Colour in the picture settings |
| Sony | Set the HDMI signal format under external inputs to 'Enhanced' |
"If the HDMI cable does not fulfil the HDMI 2.0 standards or has a defect, then UHD HDR gaming fun can be already over before it has begun."
Utmost care is also required when choosing the HDMI cable. According to the editor of Auerbach Verlag: "… specifically the PS4 Pro and Sbox One S can exhaust the output maximum for the signal output as defined by the current HDMI standard, so that every cable fault is penalised with image interference or signal loss."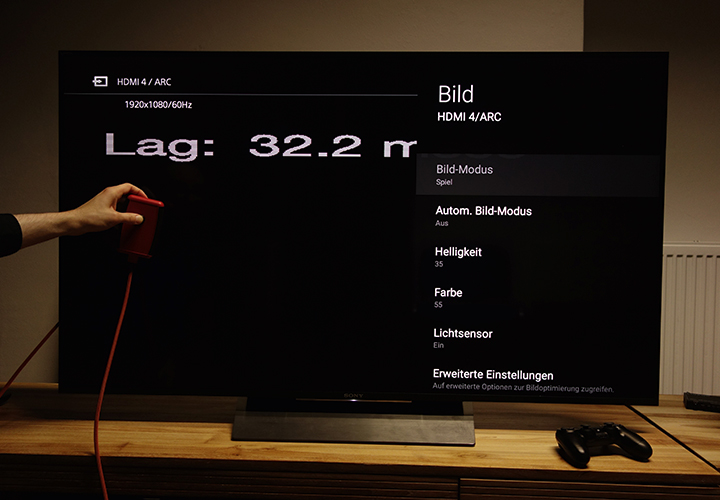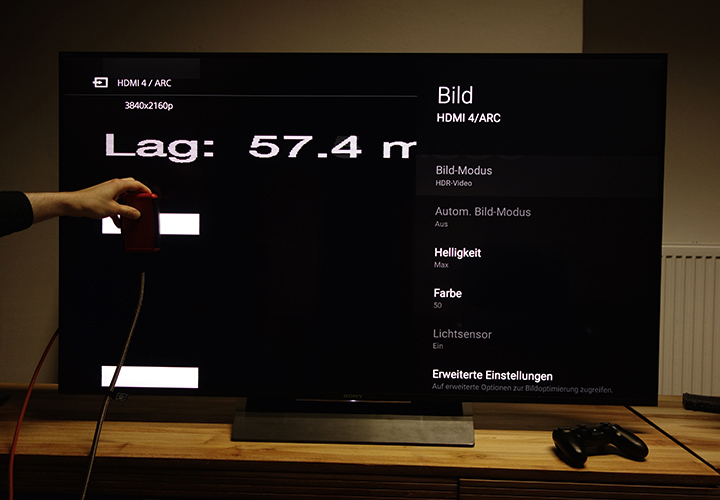 Pictures: Auerbach Verlag
The game mode for a lower input lag cannot be enabled with all UHD HDR televisions Here a TV with Full HD contents (left) shows a clearly lower input lag than in the case of a UHD HDR feed (right, test with our HDMI cable from the Reference Class).