Find the right speaker cable
Every speaker has its own character. Avinity offers the right cable.
Every speaker has its own character. That is why there is a variety of speaker cables – each setting a different tone through its cable design, material and craftsmanship. Thus a speaker with a low treble range, an ample midrange and powerful bass can rise to unimagined highs when used with a speaker cable that has a high proportion of silver, such as the 'Magic Silver' from Avinity. The preferred music genre is also relevant. Furthermore, depending on the power of the amplifier and boxes, the cable diameter should be given consideration.
Avinity therefore offers a comprehensive range of speaker cables, for example, the ultra-flat 'Magic Flat' for the cabling of ceiling and effects auxiliary speakers, or the 'Magic Twisted' high-purity, oxygen-free copper (HP-OFC) speaker cable with a 4 mm2 cable diameter for floorstanding front speakers.
Custom cable assembly
Speaker cables can be assembled with bananas and Flex Pins (also possible retrospectively). This makes connection particularly simple and the risk of a short circuit can be ruled out.
All Avinity speaker cables are available in special lengths. On request, our skilled craftsmen will assemble your cable by hand. Finally, your cable is tested and 'run in'. A 30-year warranty speaks for itself.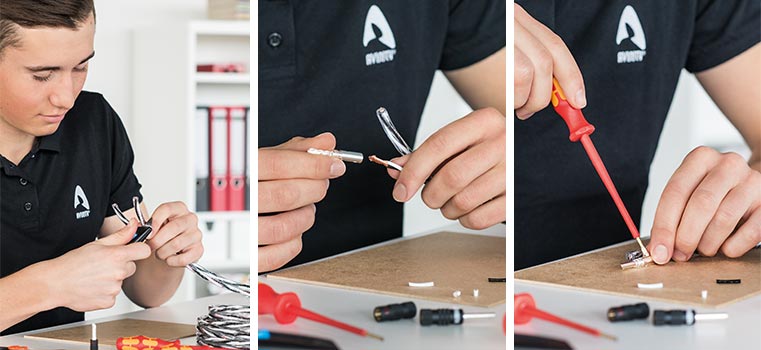 Our hotline will be happy to assist you in selecting the right speaker cable:
AVINITY HOTLINE
Tel.: +49 9091 502-950 (local rates apply)
Our Avinity Hotline can be contacted at the following times:
Monday to Thursday: 7 am to 5 pm
Friday: 7 am to 4 pm
You have made your selection and would like us to assemble a cable for you? Then write to us. You can then collect your assembled cable from a local Avinity retailer.