Our quality classes
Dive into a world unlike anything your eyes have ever seen.
From Helene to Metallica – From Rambo to Gran Torino
Film or music, classics or action: There are innumerable genres, artists and formats. Having a variety of styles to choose from is a good thing. That is why our products come in different quality classes – with exactly the right class for your devices and your needs. The entry-level classes are intended for demanding newcomers to the world of entertainment. Our premium and high-end quality standards fulfil the highest requirements in entertainment. And with our Reference Class we set the bar even higher and give you the ultimate entertainment experience to go with your first-class devices.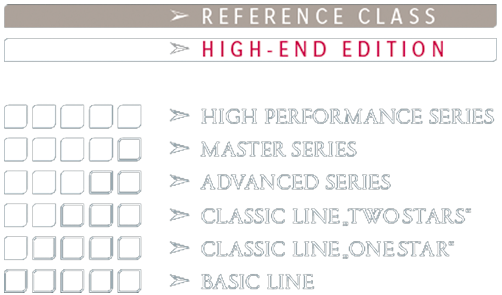 REFERENCE CLASS
The Avinity Reference Class gives you the ultimate entertainment pleasure in combination with your first-class devices.
HIGH-END-EDITION
Thanks to its patented cable concept the Avinity High-End Edition ensures absolutely clear image and sound transmission.
HIGH PERFORMANCE SERIES
The Avinity High-Performance Series perfectly harmonizes with high-quality devices from the premium segment.
MASTER SERIES
The Avinity Master Series fulfills highest entertainment requirements.
ADVANCED SERIES
The Advanced series is the entry-level concept of our premium segment.
CLASSIC LINE "TWO STAR"
Our Avinity "Two Stars" Classic Line is intended for demanding newcomers in the world of entertainment.
CLASSIC LINE "ONE STAR"
With the Avinity "One Star" Classic Line you have a cable with an optimal price/performance ratio.
BASIC LINE
The Avinity Basic Line offers entry-level cables with solid workmanship for a good image and sound experience.
Avinity at its best
Three-and-a-half years of tests and night shifts have paid off: our Avinity developers are setting a new standard in high-end quality with the new Reference Class. Even higher-quality materials and better workmanship deliver a level of image and sound transmission your eyes and ears have never before experienced.
More
We have the perfect cable for you
"To be completely honest, you do not always need the most expensive cable. It really depends on which devices from which price classes you want to connect to one another. Or which music you want to play on your speakers. Not sure which quality class best matches your device? Your local Avinity dealer will be happy to help you. You can also call us directly at our hotline in Monheim, Germany: +49 (0)9091 502-950."
Jürgen Hirschbeck, Avinity product management