Use of cookies
This website uses cookies to provide you with an optimal user experience. By using mandatory cookies, we ensure that all main functions of this website are available to you.

With your agreement, further features of our website will become available to you, such as searching for retail shops, product videos and sharing content with friends.

You can revoke your agreement at any time. You will find information on this and more in our Privacy Policy.

ITEM 00107517
RCA Cable
Subwoofer Cable + Adapter, RCA socket - 2 RCA plugs, fabric, gold-pl., 8 m
This high-performance cable transmits signals to a subwoofer with no loss of quality. Triple shielding of the signal line guarantees a pure listening experience with no interference.
Feature
Silver-plated, extremely strong and highly durable, copper-modulated OFC stranded wire (99.99% Cu)
Triple-screened signal lines
Coaxial design
Directional
24-karat hard gold-plated solid metal plugs
More product information
High-quality subwoofer cable for connection to AV receivers: optimum signal transmission in the low-frequency range for playing back powerful, deep bass in the field of music and home cinema
Triple protection
HRA - High Resolution Audio
Including Y-adapter 1-2 with the same cable quality for subwoofers with 2 inputs
30-year warranty
Test results

01/14
Outstanding; top class; 1.1
Price/Performance: excellent
"Avinity's 107517 is a well-structured subwoofer cable that is distinguished by high material quality and a pretty outward appearance."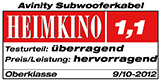 09/12
phenomenal
Price/Performance: excellent; Topclass
"The Avinity 107517 is a well structured subwoofer cable which is distinguished by great material quality and a nice appearance. The best, however, is the price as home cinema fans get a relatively cheap high end cable for about 70 Euros (length: 8 metres) which gives every subwoofer the possibility to exhaust its full potential and which raises your home cinema system to a new level."