09/2015
Perfect connection for wireless systems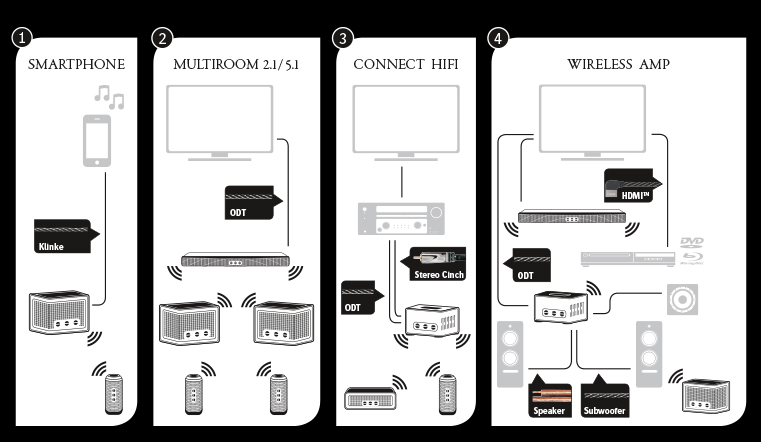 A wireless hi-fi system is very easy to connect to your smartphone, TV or other household devices – if you've got the right cables.
But not all cables are created equal. For home cinema buffs, especially, the right cables make all the difference. Anyone wanting a high-definition picture and crystal-clear sound chooses high-quality connector cables like those of Avinity. They're perfect for connecting wireless systems from various manufacturers—and come with a 30-year warranty.
1 Connect a smartphone or mp3 player
Many wireless systems and older mp3 players often don't have Bluetooth. To connect these devices anyway requires a mini stereo cable. This one is heavily shielded for connecting portable devices to home cinema components or portable speakers. The result is pristine sound.
2 Connect a TV with a sound bar
Normally a wireless sound bar is connected to the TV with an optical cable. If the sound bar is only equipped with analogue inputs and the TV only has analogue outputs, then analogue connector cables are required. The sound bar then wirelessly transmits the signals from the TV to the satellite speakers—for mighty sound right in your own home.
3 Upgrade hi-fi systems with Connect HiFi
To make your old hi-fi system—amplifier, audio components and tower or cabinet speakers—WLAN audio streaming-ready and integrate it into a multi-room setup, you'll need an external streaming client. This component receives music files from networked audio sources. It connects to the amplifier via a stereo cinch or optical cable.
4 Retrofitted streaming capability
To integrate cabled tower or cabinet speakers, a subwoofer, CD player and other audio components into a WLAN multi-room setup requires replacing the old amplifier with a wireless one. Connect it to the various audio components with optical, digital co-ax or stereo cinch cables. Then connect the speakers with cables. After that, you're ready for cable-free music streaming. The controller is usually a mobile app, PC or Mac.